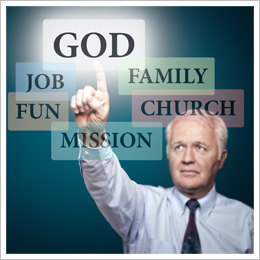 Our money is the one thing in life that is all consuming. The amount of money we have and how we spend it determines where our treasure (i.e. heart) is and how much of an effect we will have in the Kingdom of God. I like what Benny Hinn says, "the gospel is free; it just takes money to preach it." Jesus spoke more about money and/or stewardship that any other subject. Therefore our financial health and state of finances is a biblical priority.
When one considers that we Christians are to be "the head and not the tail"  (Deut. 28:24) you would think that we would have the upper hand over the world in the understanding and accumulating of wealth. Such is not the case! In fact my experience as a teacher of biblical economics, is that it is the Christians that are so gravely lacking in not only the subject of God's finances, but also on the subject of world finances. Christians succumb to the same financial woes of the secular world.
The bible says, "My people perish for their lack of knowledge."  (Hosea 4:6) Christians are perishing for their lack of understanding of finances and for their lack of proper biblically based financial planning. This is sin. "To whom much is given much is required." (Luke 12:48) Much has been given to anyone living in Canada. Compared to the whole world, we are in the top eight percent of the world's population in terms of wealth. Unfortunately, we think of ourselves as being poor if we do not have a colour T.V., microwave oven, and a cell phone. Compared to he rest of the world, we are very rich! That then, indicates that we have been given much, and therefore much is required of us. What is that, that is required? Good stewardship of what we have and a biblical approach and priority with respect to our finances. I see too much lack of knowledge, but worse yet, complacency among Christians to not have the knowledge about finances and to not make it a biblical priority in their lives.
The sad reality of life is that "it takes money to preach the gospel." If the money is not there, than the gospel is not being preached. Consequently, people are going to hell, not because they are "bad," but because they have not heard the gospel and made Jesus the Lord of their life. A gospel that was not preached to them, because we didn't have enough money to get it preached to them! (no pressure here!!….) This is not to suggest that we should be putting ourselves on a "guilt trip," but rather it does mean that we are to "get wisdom and get understanding"  (Prov. 4:7) with respect to our finances. We need to be blest in order to be a blessing. We can't get the fullness of our own blessing if we do not understand biblical economics and worldly economics. If we don't have that fullness of blessings, then we are not blessing others as well as we should be or could be. Consequently, people go to hell because we don't have wisdom!
It behooves all Christians to get the wisdom and understanding they need to build wealth to further the Kingdom of God. I remember a number of years go when my brother was attending a church, he was asked to teach a course on secular finances and personal investing. He was qualified for this, and said he would. People in his church were complaining about their financial situation and said they wanted some "wisdom." After weeks of preparing a course my brother was ready to teach. The course was then cancelled, because of a lack of enrollment. Typical. It reminds me of the Israelites complaining about being out in the desert and wanting to go back to bondage in Egypt.
Not only are God's chosen people perishing, but the heathen are perishing too because there is not enough money to preach the gospel around the world and transform it. Financial stewardship needs to be a priority with all Christians.
Have you given any thought of where and how you can give?
https://newstartministries.ca/wp-content/uploads/newstartlogo4.png
0
0
Adminstration
https://newstartministries.ca/wp-content/uploads/newstartlogo4.png
Adminstration
2022-06-06 09:00:28
2022-01-12 14:39:29
A Biblical Priority